Recent Acquisitions
The Claresholm & District Museum is continually receiving artifact donations from our current and past community members. Take a look at some of our recent acquisitions by going to the Artifacts Photo Gallery Scan over and click on the images to find out more about them!
Items of Interest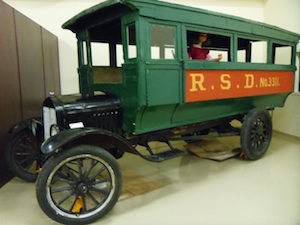 Model "T" School Bus
The first museum board acquired the Ruby School District bus, an important piece of our local educational history. In February 1916, tax payers in the Ruby district, which was adjacent to the town to the west, voted to use a school bus to take their children into Claresholm instead of building their own school. That first bus was a horse drawn wagon driven by Ray Wilhite. The route went west from Claresholm for four miles, two miles north, then four miles east and a mile south to the school. In April 1918 the Ruby School District ordered a Model "T" chassis from Claresholm Garage Ltd. and a custom-made wooden body from a company in Calgary. This bus was used from 1918 to 1938 when it was traded in on a new panel truck. The bus is on display in the Museum's Exhibit Hall.
The Walnut Breakfast Table, donated by Ruth Attwell
This table belonged to the Moffatt family, whom have a long and rich history in the town of Claresholm, and were once owners of the Moffatt and Sons hardware store.
---